Interview with Jörg Schönwald – Figures, data, facts about the stand-up pouch in Europe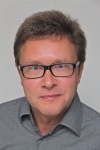 Jörg Schoenwald has studied law, economics, history and politics at the Erlangen-Nuremberg University. After his studies, he worked in the pharmaceutical industry and joined SCHÖNWALD CONSULTING in 1995. In 2006 he took over the manangement. As international business consultancy the firm's European and worldwide fields of activity are packaging, plastics and environment. Foci of business are industrial market research, business consultancy, recovering and recycling. The main emphasis is put on industrial market research for flexible and rigid plastic packaging, aluminium, steel, glass and paper packaging products. Plastics and paper for non-packaging applications are another field of activities.
Besides publishing numerous multi-client-studies SCHOENWALD CONSULTING has been working intensively on exclusive studies on behalf of many renowned companies even in a global scope.
Jörg Schöwald holds a speech about the stand-up pouch market in Europe at the 6th European Stand-up Pouch Conference.
You hold a speech at the 6th European Stand-up Pouch Conference of Innoform. What is the main statement of your presentation?
The stand-up pouch as packaging will develop positively.
What kind of audience to you wish and why?
A preferable diversified audience. From raw material manufacturer through converter and machine manufacturer up to filler and brand-owner.
How do you assess the development of the stand-up pouch (SUP) as a whole concerning your field of activities?
As an important packaging in addition to bottles, cans, rigid and other flexible packagings.
You have been observing for many years the European SUP market. What are the most important changes during the last 5 years and what will happen in the future?
The considerably increased share of pouches with welding part. For the future: Many pouches made of mono material will be used.
What are the reasons for the continuous growth of the stand-up pouch market in your opinion?
The stand-up pouch is a convenience product that is appreciated by the consumer.
How do you classify the stand-up pouch regarding the demand for circular economy?
Developments and changes will still be necessary in this field.
Which SUP concept did impress you most?
I do not want to prefer any concept.
What do you recommend to a brand owner who wants to start with pouches?
To inform in detail, above all, if he does not have any experience in flexible packagings.
And finally a personal questions: What inspires you besides your professional activities?
The current political and economical situation in the world.
Geschrieben am 11. Jun, 2018
Kategorie: filling technology, General
Tags: Bottles, brand owner, Cans, Circular Economy, Convenience, Converter, Filler, Flexible packagings, Interview, Joerg_Schoenwald, Machine manufacturers, Mono-Material, PC-09-18, Raw material manufacturer, SUP, Welding parts.