Speaker's interview: Immo Sander about sustainable and recyclable packaging concepts at Werner & Mertz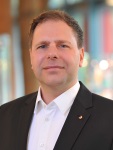 After having worked as machine assembly and plant technician at various companies for several years, Immo Sander studied packaging engineering/print technology at the university for economy, technology and culture Leipzig (FH). He worked as packaging developer at Unilever, Plantic Technologies and Unternehmensgruppe Theo Müller. He is the manager of the Packaging Development at Werner & Mertz GmbH since 2011.
He holds a speech about "Sustainable and recyclable packaging concepts as strategic marketing and business goals" at the 6th European Stand-up Pouch Conference on 11/12 September 2018.
You hold a speech at the 6th European Stand-up Pouch Conference of Innoform. What is the main statement of your presentation?
We would like to present the results of a long-time development project and show that we succeeded – on this development platform – in developing a really sustainable and recyclable concept for pouches together with partners like Mondi Consumer Packaging GmbH, the Green Dot and EPEA Switzerland (Cradle-to-Cradle®).
Which kind of audience to you wish and why?
To be able to establish and develop the new market standard, we need participants of various fields of the FMCG industry.
How do you assess the development of the SUP as a whole concering your field of activities?
The SUP has an essential meaning for the future. SUP' s will be offered more and more as primary packaging as well as for refilling concepts.
W&M decided upon the topic "Packagings and sustainability". What is – in your opinion – the most important benefit for your company and the customers as a whole?
The pouch for detergent has established as primary packaging at our customers, and due to its "soft" feel, a very good residual emptying and a small weight it is very popular.
What are the reasons for the continuous growth of the stand-up pouch market in your opinion?
No answer.
How do you classify the stand-up pouch regarding the demand for circular economy?
Current standards for SUP's made of multilayer plastic compounds do not fulfil the condition for a simple, cost-efficient mechanical recycling. Various plastics and bonding agents prevent a sorted and above all simple recycling. For this reason, we strive for a new standard with our concept. Furthermore, the labelling of multilayer compounds has to become more clearly and explicitly for the customer.
Which SUP concept did impress you most?
Our common development.
What do you recommend to a brand owner who wants to start with pouches?
To have a close look at all steps of the process chain – from film manufacturing up to classification and mechanical recycling. The knowledge profit for the classification of the SUP concept will be enormous!
And finally a personal question: What inspires you besides your professional activities?
Human reason and the claim to completeness when using knowledge!
Geschrieben am 11. Jun, 2018
Kategorie: filling technology, General
Tags: Bonding agent, Circular Economy, Classification, Compound, Cradle to Cradle, EPEA, Film manufacturing, FMCG, Green Dot, Haptic properties, Immo_Sander, Interview, Market standard, Packaging concept, PC-09-18, Plastics, Primary packaging, Process chain, recyclable, Refill, Residual emptying, SUP, Varietal purity, Working weight.