Speaker's interview with Marco Izzi about new PP materials for sterilisable stand-up pouches for food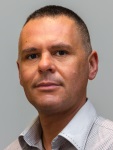 Marco Izzi works as "Application Development and Technical Service Engineer" at LyondellBasell in Germany. His field of activities includes the development and market launch of new and improved polyolyfine types, in cooperation with R & D, marketing, sales and Asset Management. Furthermore, he is responsible for the support of polypropylene film manufacturers.
In his professional career he worked as Quality and F & R Manager at Manuli Stretch Deutschland GmbH and Berry Plastics GmbH.
He has a degree in Technical Engineering at the University "La Sapienza" (Rome) and a MBA at the "PFH – Private University of Applied Sciences" (Göttingen).
You hold a speech at the 6th European Stand-up Pouch Conference of Innoform. What is the main statement of your presentation?
Challenges and solutions for polypropylene types used in the film extrusion for retortable stand-up pouches.
Which audience do you wish and why?
Film manufacturers and brand owners. On the one hand, they are closer to the consumer in the value chain and know therefore their requirements better than we do. On the other hand, we need a feedback regarding our newly developed products to be able to improve them.
How do you assess the development of the stand-up pouch (SUP) as a whole concering your field of activities?

The growth rate of the SUP is esteemed higher than the growth of the plastic consumption in the packaging industry. The development projects in the field of PP films at LyondellBasell are considerably influenced hereby. Only in the "RETORT" area three new types of polypropylene have been introduced into the market, even though the reducing complexity plays an important role in every company due to efficiency reasons.
What is the main benefit for PP stand-up pouches in your opinion?
Convenience. Light weight, easy recycling (but this does not mean that it is the most environmentally friendly way of disposal), easy handling, optical attraction.
What are the reasons for the continuous growth of the stand-up pouch market?

The key drivers are the new markets (for example Far East), because new packaging machines are acquired. In Europe, old packaging lines are changed – slowly, but constantly. It is more common to change at first the packagings for product line extensions. This change takes place slowly, but it is unstoppable.
How do you classify the stand-up pouch regarding the demand for circular economy?
The stand-up pouch in its usual composition (laminate) means a problem for the circular economy. The requirements for "Convenience" , however, are a main driver for research. The recyclable SUP will come – slowly, but surely.
Which SUP concept did impress you most?
High barrier due to transparent and thin lamination from Japan. The film is still made of PET, but the PP solution is under development and could mean a breakthrough in the recyclability of retortable stand-up pouches (personal opinion).
What do you recommend to a brand owner who wants to start with pouches?
To involve all participants of the supply chain in the product development (film manufacturers, polymer producers) to achieve the best results regarding mechanical, optical and thermal properties as well as barrier functions.
And finally a personal questions: What inspires you besides your professional activities?
Running, sports in general, salsa dancing.
Geschrieben am 11. Jul, 2018
Kategorie: barrier films, filling technology, Film production / Converting, Food packaging, General, Stand-up pouches
Tags: Attraction, brand owner, Consumer, Convenience, Development projects, Europe, Far East, Film manufacturer, Growth rate, Handling, Interview, Japan, Kunststoff, Marco_Izzi, Packaging industry, Packaging machines, PC-09-18, PET, Plastic consumption, Polymer producer, PP stand-up pouches, Product development, Product lines, recyclability, Recycling, Retort field, retortable stand-up pouches, SUP, Supply Chain, Thin lamination, transparent, Types of polypropylene, Value chain, Weight.