Speaker's interview with Torsten Erwied: The advantages of ultrasonic top seams in stand-up pouches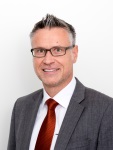 Torsten Erwied studied dual Business Economics at BASF SE and at the University of Applied Sciences Ludwigshafen. After his studies he gained more than 20 years of experience in the packaging industry in different positions as Sales and Key Account Manager. He has been managing the Sales Department of the packaging division at Herrmann Ultraschall in Karlsbad since 2017.
You hold a speech at the 6th European Stand-up Pouch Conference of Innoform. What is the main statement of your presentation?
Applications with convincing ROI by ultrasonic sealing technology of today and tomorrow.
Which audience do you wish and why?
Responsibles for production and quality in the packaging industry (production manager, managing director, quality manager).
How do you assess the development of the stand-up pouch (SUP) as a whole concerning your field of activities?
SUP prevail more and more for certain applications; especially in the field of filling wet products, we consider the SUP with a high relevance for our ultrasonic sealing technology. We expect an above-average growth in this field.
How do you assess the ultrasonic technology for the stand-up pouch regarding a complete sealing with this technology?
We consider the ultrasonic sealing technology – applied with wet products – to be alternativeless if high quality standards to the sealing are required.
What are the reasons for the continuous growth of the stand-up pouch market?
We consider the following trends as main reasons:
Convenience packaging – Ready to eat
Trend for single portions
Substitution of tin cans and aluminium packagings
New requirements to the supply chain, for example due to E-Commerce
How do you classify the stand-up pouch regarding the demand for circular economy?
The SUP has the potential to sustainably support the circular economy if it is made of recyclable mono material. This is another approach for the technical advantages of ultrasonic sealing technology.
Which SUP concept did impress you most?
We are most impressed by the zipper for the reclosable SUP, for example for grated cheese.
What do you recommend to a brand owner who wants to start with pouches?
We recommend an intensive analysis of all quality requirements made on oneself as producing company and later fulfilled for theses pouches. Furthermore, it is important to make proper arrangements with the film/material supplier, the machine manufacturer as well as the supplier of the sealing technology.
And finally a personal questions: What inspires you besides your professional activities?
Cycling through the bends on the motorized two-wheeler in the beautiful Black Forest.
Geschrieben am 12. Jul, 2018
Kategorie: barrier films, filling technology, Food packaging, General, Stand-up pouches
Tags: Aluminium packagings, Circular Economy, E-Commerce, Interview, Machine manufacturer, Managing Director, Mono-Material, PC-09-18, Pouches, Production Manager, Quality Assurance Manager, Quality requirements, ready to eat, ROI, Sealing technology, Single Portion, Stand-up pouches, SUP, Supply Chain, Technical advantages, Tin can, Torsten_Erwied, Trends, Ultrasonic sealing technology, Wet products, Zipper.