Circular economy becomes normality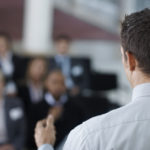 Guido Aufdemkamp, Managing Director of Flexible Packaging Europe, the European association of the flexpack industry, speaks plainly with Karsten Schröder in an interview. In a few years, it will be normal to think and produce in cycles. But before that, brands, retailers, flexpackers and politicians will have to work hard. Guido Aufdemkamp emphasises that only a European approach can lead to a sensible circular economy, especially for consumer packaging. Even if flexpackers can rightly claim to be minimalists in terms of material consumption, the large quantities of thin flexible packaging must also be recycled – and even more so, the legislator demands the avoidance of packaging. The legislation clearly emphasises that material-independent thinking is needed and pigeonholing must be overcome. But listen for yourself in this episode in the run-up to the first European Inno-Talk as a joint production of FPE and Innoform.
Listen to the podcast with a lobbyist.
Geschrieben am 20. Sep, 2021
Kategorie: Bio-films, Disposal / Recycling, filling technology, Film production / Converting, Food packaging, General, Inno-Talk.eu