10th Inno-Talk in January 2022 – Sustainable packaging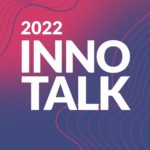 And there will be10 Inno-Talks again in 2022.
The Inno-Talk enters the 2nd round in 2022. Flexpack knowledge for decision-makers is and remains the motto. But a few things are changing. Six German-language and four European talks in English are on the programme. We offer the Inno-Talk Europe together with Flexible packaging Europe (fpe).
We will start on 21 January 2022 with the topic Sustainable packaging from the point of view of a machine manufacturer – in German – followed by Opportunities and limits of barrier films and laminates in English.
With Multivac and Packaging Valley, there will be once again two top-class speakers. Marina Dodel will talk about challenges and trends in packaging machine construction from Multivac's point of view. Her topic is: Sustainable packaging – what do we mean by this?
Martin Buchwitz from Packaging Valley will talk about the impact of the sustainability trend on machine design.
You can find a trailer on our Youtube channel or right here:
Register now for free at www.inno-talk.de and visit the showrooms of our supporters – it's worth it.
Geschrieben am 14. Dec, 2021
Kategorie: Bio-films, filling technology, Film production / Converting, Food packaging, Inno-Talk.eu, Thermoforming/deep-drawing