Innoform goes Europe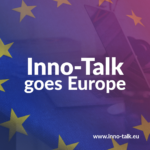 … for sustainable and safe flexible packaging.
Innoform goes Europe – this is the slogan for Innoform's next international Inno-Talks, which will be held together with our industry association Flexible Packaging Europe (fpe). In 2021, more than 4,000 guests already benefited from the free flexpack knowledge of renowned speakers, and 10 Inno-Talks are again planned for 2022 on every 3rd Friday of the month.
Presentations, live polls, exciting debates around current trend topics in 8 German-language and 1 English-language European Inno-Talk attracted new supporters, who already ensure the continuity of this innovative format well into next year.
The main new feature is that 6 Inno-Talks will be held in German and 4 Inno-Talks Europe in English. The German live events mainly deal with technological topics, the European talks will focus on European policy guidelines, innovation and strategic orientation.
Essentially, we will remain true to our technology focus, but we will approach European topics and stakeholders more strongly, especially at the European level. The next three to four dates and an archive of previous events can be found at www.inno-talk.eu – the new dynamic website for Inno-Talk with shelves full of supporters' knowledge, blogs and podcasts on Inno-Talk for sustainably safe flexible packaging.
Innoform also wants to emphasise material independence for flexible packaging. This will also bring paper, bio materials and aluminium into focus – be curious and register early. Because only those who register before the event and participate live will have access to all contents and further information. But above all, you will have the opportunity to get in contact with the decision-makers in the Flexpack sector – now also increasingly at European level.

NEW is also the reactivation of Instagram, Facebook and Twitter at Innoform and special background information on the Inno-Talk format with strange, memorable and funny anecdotes from production and preparation.
Geschrieben am 24. Jan, 2022
Kategorie: filling technology, Film production / Converting, Food packaging, General, Inno-Talk.eu
Tags: #innotalk, flexible packaging, Flexpack, innotalk.