Ton Knipscheer talked to Karsten Schröder about "Digital Heating"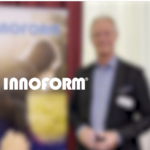 A live interview recorded in Berlin in October 2022
It was a great pleasure to meet so many high-quality representatives of the international flexible packaging industry at the Inno-Meeting Europe 2022 in Berlin. Inspiring keynotes with challenging perspectives and a very nice social programme. I had the privilege to be there and to make many valuable contacts. Afterwards, I was able to talk to Karsten about how disruptive this digital heating technology is, said Ton Knipscheer after the event.
Saving material, energy and process time while using sustainable mono-materials seems so logical, but until recently this was not possible. This year, the World Packaging Organisation presented the World Packaging Award to WATTTRON for this revolutionary technology.
Listen to this interview from Berlin, conducted in English.
Geschrieben am 24. Oct, 2022
Kategorie: Bio-films, filling technology, Film production / Converting, Food packaging, Inno-Talk.eu, Labels and sleeves, Stand-up pouches, Thermoforming/deep-drawing