BOBST, alongside its industry partners, showcased the future of the packaging industry through comprehensive workflow solutions.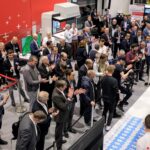 On October 26th, 2023, BOBST, in collaboration with industry partners and brand owners, impressively demonstrated the production of sustainable flexible packaging during an Open House at the BOBST Bielefeld Competence Center. The event highlighted the latest technologies and integrated workflows, with a strong emphasis on BOBST Connect.
Sustainable packaging in the manufacturer's focus
Manufacturers of flexible packaging face increasing demand for innovative solutions that meet the requirements of brand manufacturers for maximum sustainability and comply with new regulations regarding packaging materials. The industry is responding by shifting its packaging solutions towards monomaterials that are 100% recyclable and increasingly paper and fiber-based applications.
Collaboration for the future of flexible packaging
In striving to provide sustainable packaging products and materials that align with and proactively address the evolving needs of customers and regulatory standards, BOBST maintains close collaboration and partnerships with industry stakeholders across the supply chain.
Innovative partnerships for sustainability
These partners include companies specializing in plate mounting, such as AV Flexologic, as well as Miraclon, tesa, and Follmann. Among the industry partners were global brand owners such as Reckitt and Unilever, who shared their experiences with visitors and conveyed their expertise and visions.
Live demonstrations of sustainable packaging
In the final part of the day, participants visited the BOBST Bielefeld Competence Center, where multiple print jobs were produced live on a printing press. This demonstration bridged the gap from theory to reality in the production of sustainable flexible packaging.
Innovation Center and One Complete Solution
The training center and Competence Center in Bielefeld provide an ideal environment for various activities. Within BOBST's integrated, seamless workflow, all elements of the production chain, from order management and prepress to printing, lamination, and quality control, are seamlessly connected through the digital platform BOBST Connect.
Recyclable monomaterials with high barrier properties
In response to the increasing demands for packaging recyclability, BOBST has introduced the oneBARRIER family of integrated solutions for recyclable high-barrier packaging. Xavier Bonamour, BOBST's Application Manager for flexible packaging, presented the oneBARRIER FibreCycle material, developed in collaboration with Michelman and UPM.
Machine updates and retrofits for improved sustainability
Companies can enhance their sustainability by extending the lifespan of their machines or expanding their capabilities. BOBST offers a wide range of upgrades and retrofits.
BOBST and its partners work closely together to make the future of the packaging industry more sustainable and meet the evolving demands.
Geschrieben am 13. Nov, 2023
Kategorie: Film production / Converting, General, Gravure printing, Inno-Talk.eu