The Inno-Meeting Europe – on the pulse of time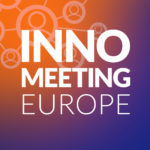 A short report by Karsten Schröder
Moderated by Guido Aufdemkamp, the Inno-Meeting Europe was an entertaining, informative and collegial meeting of the on-site and livestream participants. Together with the top-class speakers, the atmosphere was extremely friendly and constructive.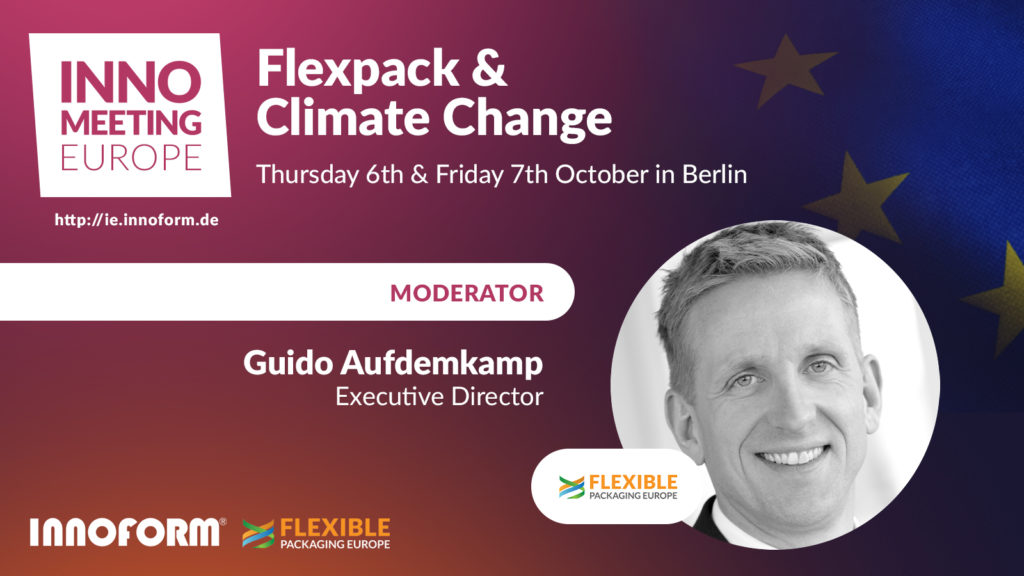 It started with facts, figures and data from Flexible Packaging Europe (FPE). Anja Holthoff-Schlegel, connected from quarantine, spoke about the expected growth in the volume of flexible packaging. Where does the growth come from in times of reduction and circular economy? Primarily, everything revolves around growing consumption, which is forecast throughout Europe.
With Dr. Günter Schubert we went into technology and we learned that aluminium foils in beverage cartons are not only responsible for the barrier. On the contrary – alumium is a process aid that improves sealing, guarantees deadfold and stays tight at the same time.
Sun Chemical, represented by Ewald Rempel, presented its sustainability strategy based on the UN Goals. Printing inks can also improve recyclability and become more sustainable themselves.
BOPP films were the focus of Dr. Daniele Borin (Taghleef). And not just BOPP with the familiar properties, but with excellent oxygen and aroma barriers. The multi-layer, biaxially oriented BOPP films now enable converters to produce mono-material packaging based on PP. These are also considered particularly recyclable in mechanical recycling.
Sabrina Schmidt offered a guide for packers that was developed in a multi-year research project with DM and ifeu Institut, among others. This guide, called INNOREDUX, can be downloaded free of charge: https://www.ioew.de/publikation/verpackungen_oekologisch_optimieren. Learn why unpacked goods are not always the most sustainable.
The two speakers Dr. Andrey Charkovskiy and Ir. Disha Disha from Siegwerk Druckfarben promoted high-quality, recyclable film packaging. Here, too, the tenor was: We are enablers of the circular economy with flexible packaging – with and without barriers. Because Siegwerk also offers barrier coatings, e. g. for paper packaging, as well as washable printing inks for so-called DEINKING.
Wattron, represented by Ton Knipscheer promised up to 90 % energy savings with digital sealing tools. Thus, 5×5 millimetre small pixels are controlled at 100 Hz and heated individually according to heat consumption. In this way, exactly the amount of heat arrives that is needed for mono-material packaging, for example. This award-winning invention amazed the room and will make the start-up successful, according to the unanimous assessment of the auditorium.
According to Alexander Bockisch, Henkel sees itself not only as an adhesives manufacturer, but also as a design partner in the best sense. In the middle of the supply chain, Henkel wants to create sustainability and added value with adhesives and new ways. After all, bonded composite films are also increasingly easy to recycle and offer high performance – impossible to imagine without them, isn't it?
Paper where possible and plastic where useful – has almost become a saying in our industry. Thomas Kahl describes why Mondi is going down this path and is strictly oriented towards the customers´ needs and requirements of the market. This is a call for openness towards materials.
Representing the retail giant DM, Dagmar Glatz showed profound expertise in printed packaging and amazed with her involvement in the PrintCYC research project, the results of which Dr. Annett Kaeding-Koppers explained in more detail below. Printing inks, even if they are not removed, can be optimised to minimise side effects during recycling, such as speckling, colour deviations and odour. "Grey is the new green" one could say.
Prof. Markus Schmid had a big surprise in store. He urged foresight and suggested the organic circular economy as an essential complement to the fossil circular economy and referred to the first research results from a sustainability institute in Sigmaringen.
PET films are dead – long live PET films – one could summarise from Ralf Meyer's article. Why does flexible packaging actually have to be made of mono-material based on polyolefins? Monopolyester films can also be used, which can be fed into PET bottle recycling, for example – all mono-material as well! The advantage: Everything can remain as it is on the packaging machines.
Xavier Bonamour's presentation for the machine manufacturer BOBST focused on "Save Food" through high and ultra-high barriers on film and paper using a combination of vapour deposition and coatings. BOBST has developed ready-made solutions on various substrates in recent years and now offers everything to interested converters under the name oneBARRIER.
"Small parts, big effect" is what Mike Landwehr said about the 10 % mass reduction in shrink-wrapped parts for stand-up pouches etc. But that is not all – customised shrink-wrapping solutions made from regenerated material are also available today and are just finding their way onto the shelves.
Fernando Gordillo emphasised that digital printing is the most resource-efficient printing process. Not only the energy requirements, consumables etc. are optimised, but also waste and overproduction are a thing of the past. But digital printing only becomes really interesting with digital business models – here we go.
For all those who want to see my final, here is the live recording.
TIP: If you are interested in viewing all or selected presentations and downloading the documents, here is a reduced introductory offer for the 1st Inno-Meeting Europe. You save 200,- € on the regular price.
A first Inno-Meeting for Europe, but not the last one.
Text: Karsten Schröder
Video: www.eveema.com
Geschrieben am 12. Oct, 2022
Kategorie: barrier films, Bio-films, Digital printing, Disposal / Recycling, filling technology, Film production / Converting, Film testing & analytics, flexo printing, Food packaging, Gravure printing, Inno-Talk.eu, Labels and sleeves, Printing inks and adhesives, Stand-up pouches, Thermoforming/deep-drawing