Interview with Alexander van Puijenbroek / Qipack about the 5th European Stand-up Pouch Conference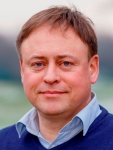 You will give a speech during the 5th European Stand-up Pouch Conference of Innoform.What is the quintessence of your presentation?
Qipack offers for the first time in history a 100% in-line seal inspection technology, which offers a full seal process control and makes it possible to find packaging failures before they become a problem, before they leave the factory and get to the consumer.
Which kind of audience do you wish for and why?
Most logic audience, I think of, are representatives of the packaging industry, food- and pharma industry and packaging machine builders.
How do you estimate the development of the pouches (SUP) regarding to your activities?
The stand-up pouch and similar concepts will become even more popular and will also be used in a lot of new applications. Also the more common products will be packed in pouches.
What are your recommendations to a trademark owner who is going to start with pouches?
Make sure your product fits well with the pouch concept. Will it be easy to use, good shelf proposition, will the product get the right protection/shelf-life, will production capacity be OK, etc…? I also would like to advice to use in-line seal inspection, as I see many suppliers struggling with quite some customer complaints and high costs. This can be avoided and the output of the pouch lines will become higher (therefore cheaper too).
Which innovations are of great interest to you, especially in the flexpack market – disregarding the SUP?
Beside our in-line quality control, which I think is new in this business, I think of alternative shapes, re-closure options and design/printings will continue to improve and change. I also think that food suppliers will go more to wall to wall production. They will less produce their own packaging/pouches, but a pouch suppliers will take responsibility and care of it on site.
Geschrieben am 08. Aug, 2016
Kategorie: Abfülltechnik, Neuigkeiten, Standbeutel, Verpackungsdesign
Tags: Alexander_van_Puijenbroek, Design, Flexpack, Food, food supplier, in-line, in-line seal inspection, in-line seal ispection, Interview, Packaging, packaging achine, packaging machine, PC, PC-10-16, Pharma, Pouch, printing, process control, reclosure, Stand-up-Pouch, SUP, technology.